Showcasing Blitzen's distinguished Dog of the Month!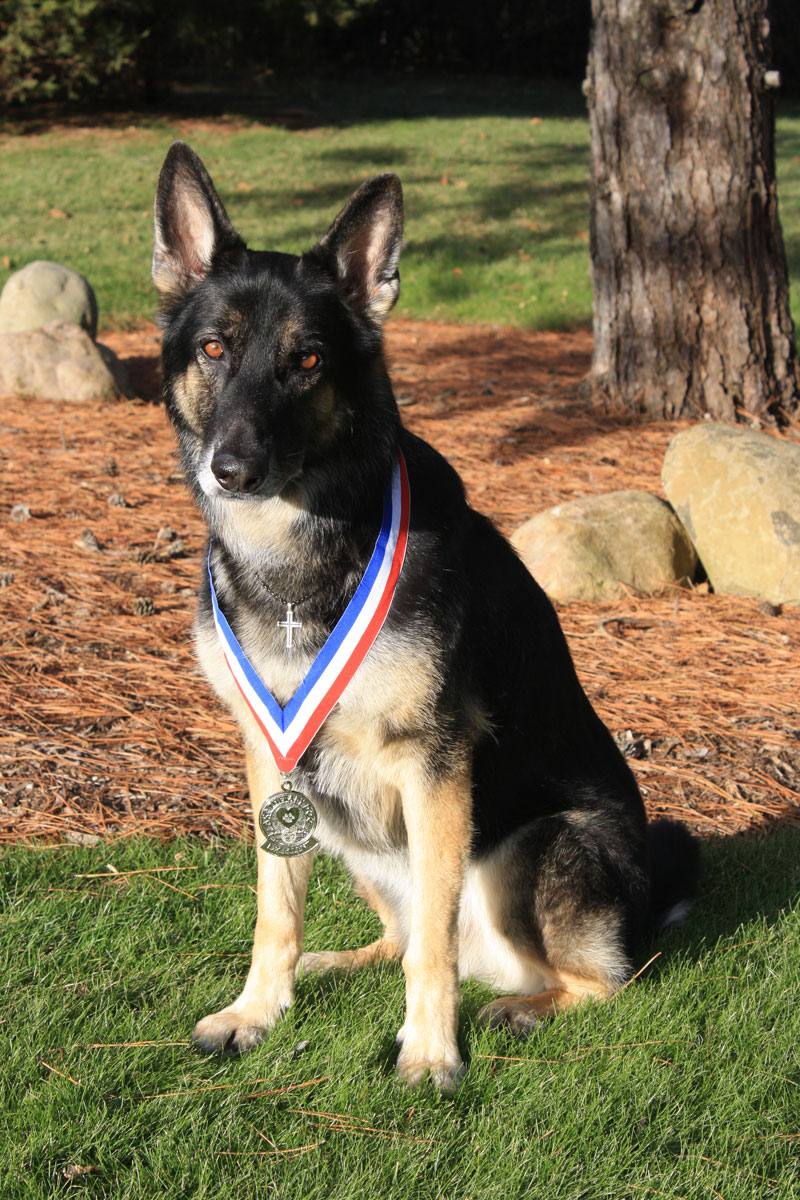 Blitzen's Cross CGC, BN, RN, THDX, HIC, TC
Cross is the offspring of Shane & Xora.
In his early years Cross competed in Obedience & Rally. Shortly thereafter we starting training and competing in agility which he truly loved and had incredible aptitude.
It was during that time period one spring day while we were out for a run we happened upon a mother and her son who was in a wheelchair. As we approached them we slowed to a walk and the mother asked if her son could see our dog. As we let his leash extend Cross quickly wrapped around the back side of the boys wheel chair and positioned himself between the mother and the son and sat down. We were silently embarrassed until we realized Cross did that so the young boy could use his only arm that functioned to pet Cross. It was after this encounter realized that we should pursue a therapy dog certification for Cross which he received on March 2, 2014. We never have been able to understand or explain how Cross knew to position himself in such a manner that let a disadvantaged boy to smile and laugh that day, while other children ran and played around him, but were thankful for such an experience because it has led us to so many more.
Cross recently received recognition from the American Kennel Club for his therapy work and obtained the title of THDX – "Therapy Dog Excellent" this past month. This indication was awarded to him because he has made over 200 visits which conservatively represents working with over 1000 patients. He performed most of this work with children who have suffered abuse and children that have struggles with mental health often times leading to self-harm. His work and his reputation have led to countless requests from the medical staff to help individuals work through their traumatic experiences in individual therapy sessions with the patient and Doctor.
In addition, the hospital he works at awarded Cross "Employee of the Month" in December in recognition of his outstanding work. This is an award in which key staff vote for a candidate out of all of their employees who best demonstrated "Service Before Self, Integrity, and Excellence".
Cross has been challenged in multiple ways that continues to amaze us and is always difficult to explain, but he has met every challenge and exceeded everyone's expectations leaving the doctors and staff amazed at the work he does. Every patient and every encounter is completely different based on what Cross senses the patient needs. One little girl he worked with for several months wrote this note to Cross that best describes his work.
"Dear Cross,
Thank you for making me laugh when I am sad. Thank you for always looking out for me and wanting to protect me. Thank you for caring about me when I don't have the energy to care about myself. Thank you for coming to visit me when I am feeling down and forcing me to do the things that will help me"
Needless to say we are extremely proud of Cross and all that he has accomplished and continues to accomplish in his life. With his continued work and requests from the medical staff at the hospital we anticipate in 2018 the AKC will award him the highest honor, THDD – "Therapy Dog Distinguished". Please keep him in your prayers that he can reach this pinnacle and continue his efforts to help those in need. We are so ever thankful to Pam for another great Blitzen German Shepherd in our lives.